DevOps as a Service
Go to production on top of proven, reliable, secure infrastructure code and best practices for AWS and GCP
THE PROBLEM:
Thousands of companies around the world build the same infrastructure over and over again from scratch.
Our Solution:  
DevOps as a Service
We have off-the-shelf, pre-packaged solutions available for all the repeated elements of DevOps.
The Result: Go to Prod in Days
Use pre-built battle-tested modules to get the infrastructure you want. Here's how you can use DevOps as a Service to go to prod in days:
How you can use DevOps as a Service to go to production in three steps:
1
Learn DevOps
Ramp up quickly with video courses, production deployment guides, talks, books, blog posts, and documentation created by DevOps experts.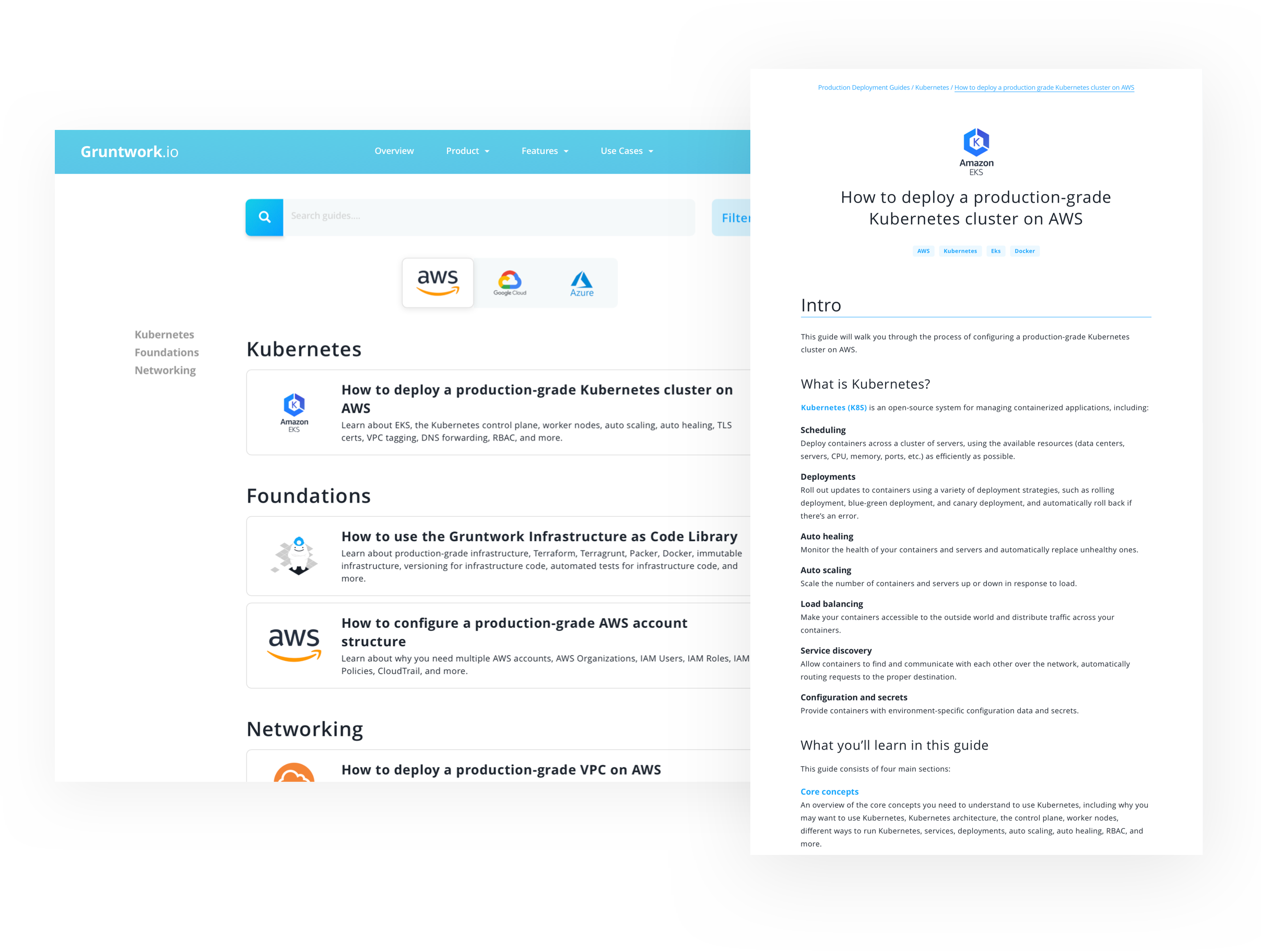 Read Our DevOps Tutorials
Ramp your team up quickly on DevOps by using documentation, blog posts, talks, books, and deployment guides created by a team of DevOps experts.
Docs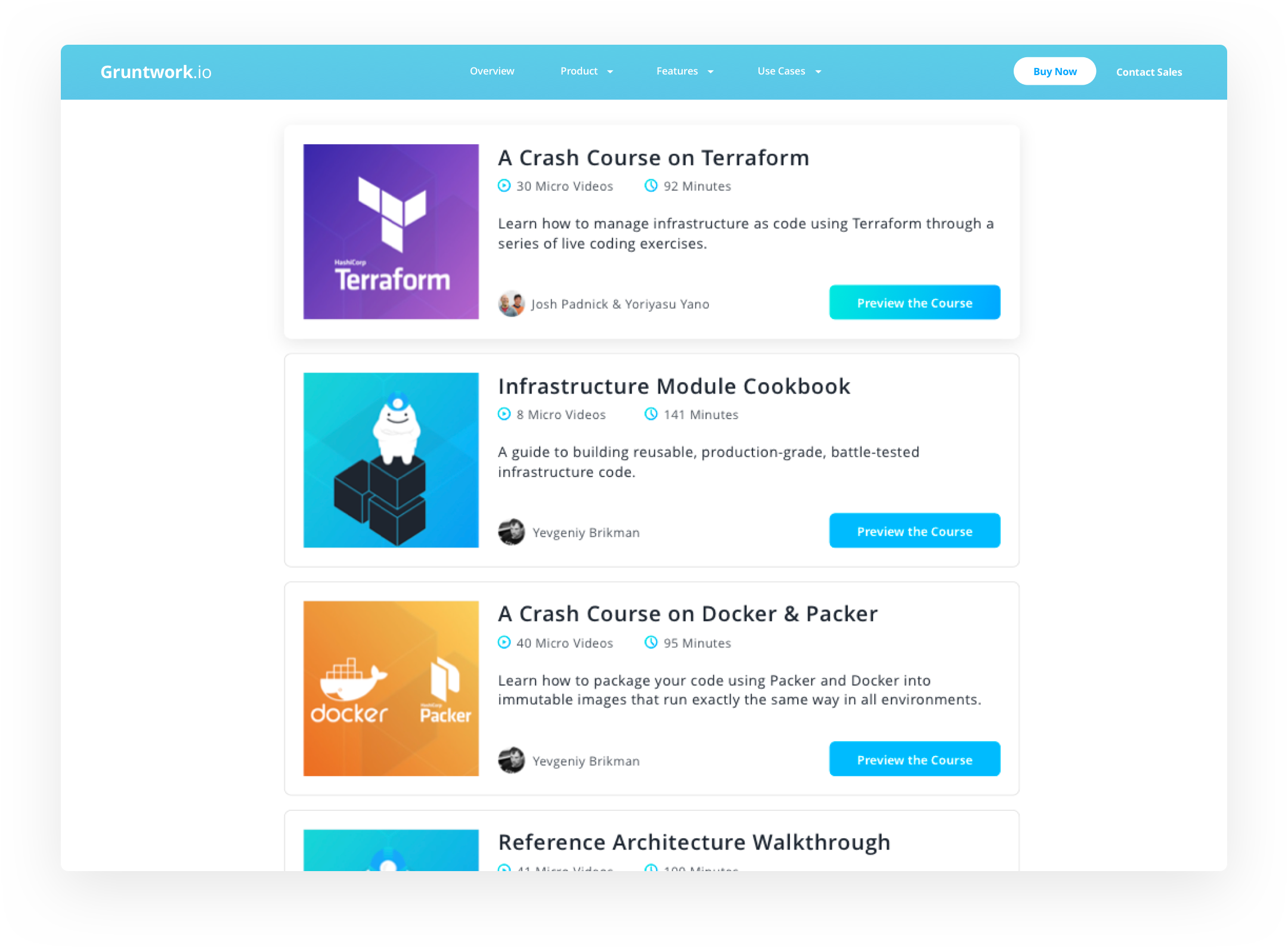 Watch DevOps Video Courses
Learn about DevOps, Terraform, Docker, Packer, security, scalability and many other best practices with access to our collection of over 100 videos produced directly by Gruntwork engineers.
Training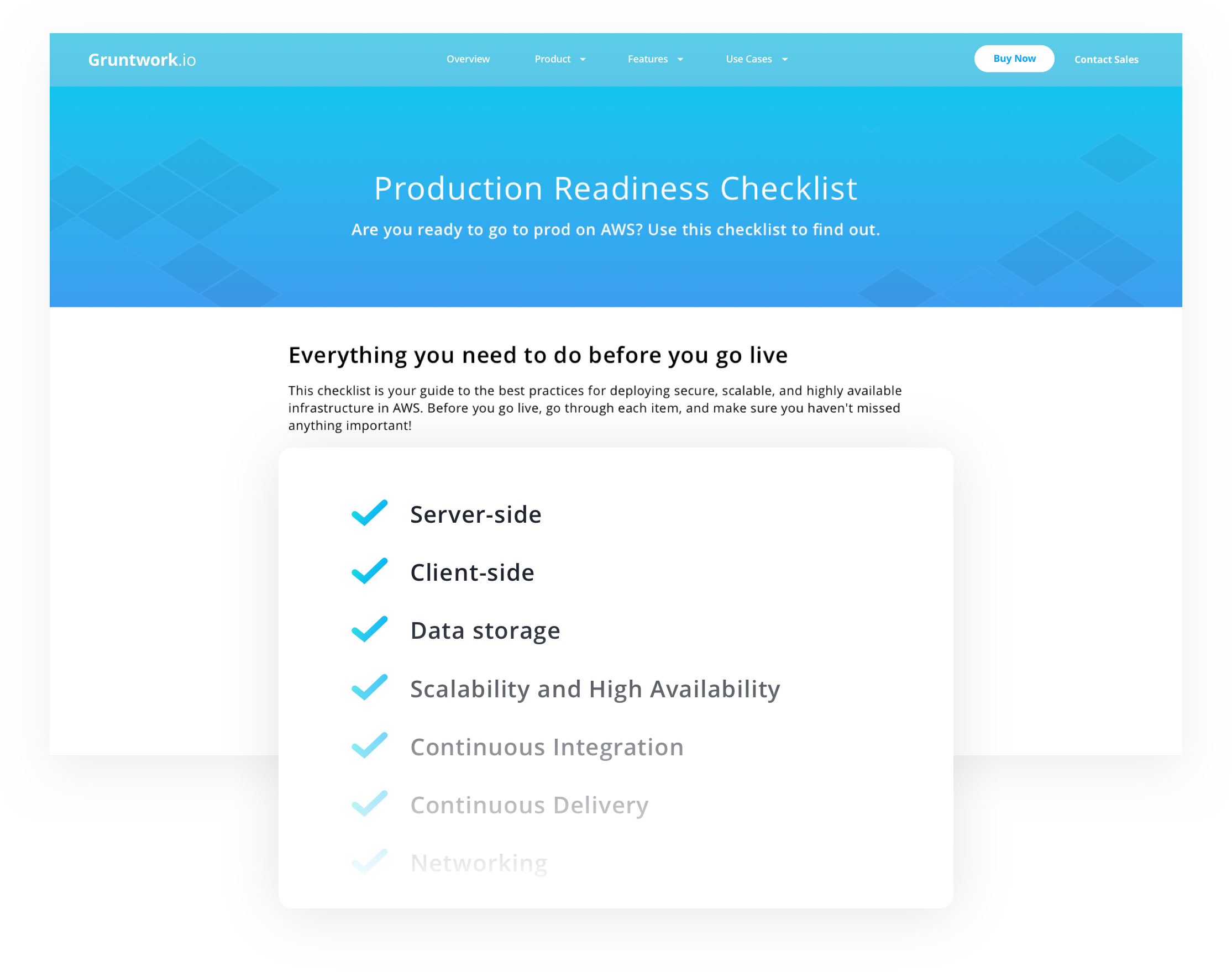 Get Expert Guidance
Make sure you're leveraging best practices by going through an onboarding process with a Gruntwork engineer and taking advantage of our production-readiness checklists.
Expert Guidance and Onboarding Services
2

Deploy Your Infrastructure
Go live in days using the Gruntwork Infrastructure as Code Library, a collection of over 300,000 lines of reusable, battle-tested infrastructure code trusted in production by hundreds of companies.
3

Operate
Get commercial support, ongoing maintenance and updates, code reviews, and prioritized bug fixes from the Gruntwork team—all for less than the price of a single, full-time DevOps engineer.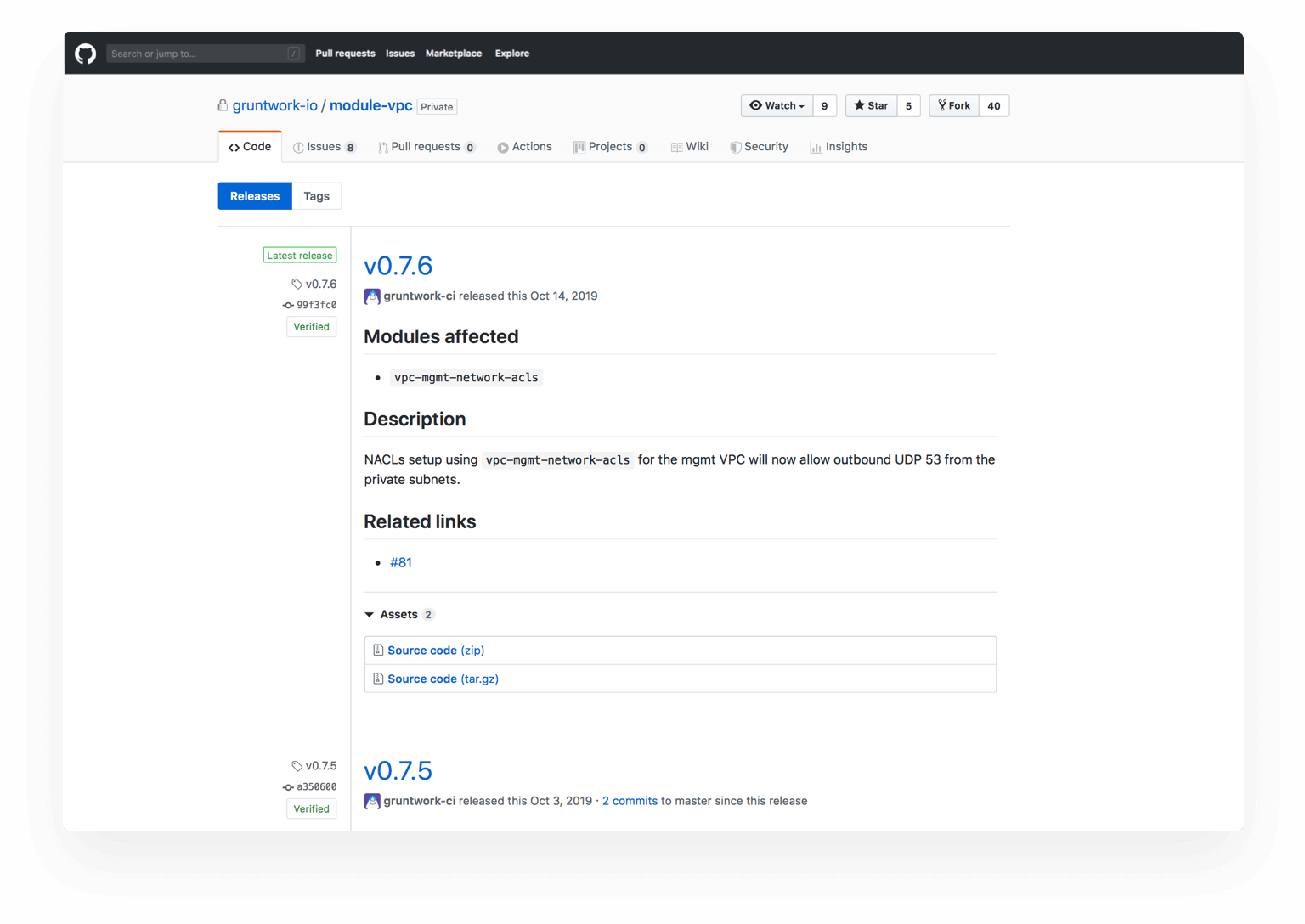 Keep Your Infrastructure up to Date
We continually make updates, additions, and fixes to the Infrastructure as Code Library. Everything is semantically versioned, so you get better, more up-to-date infrastructure with just a version number bump.
Infrastructure as Code Library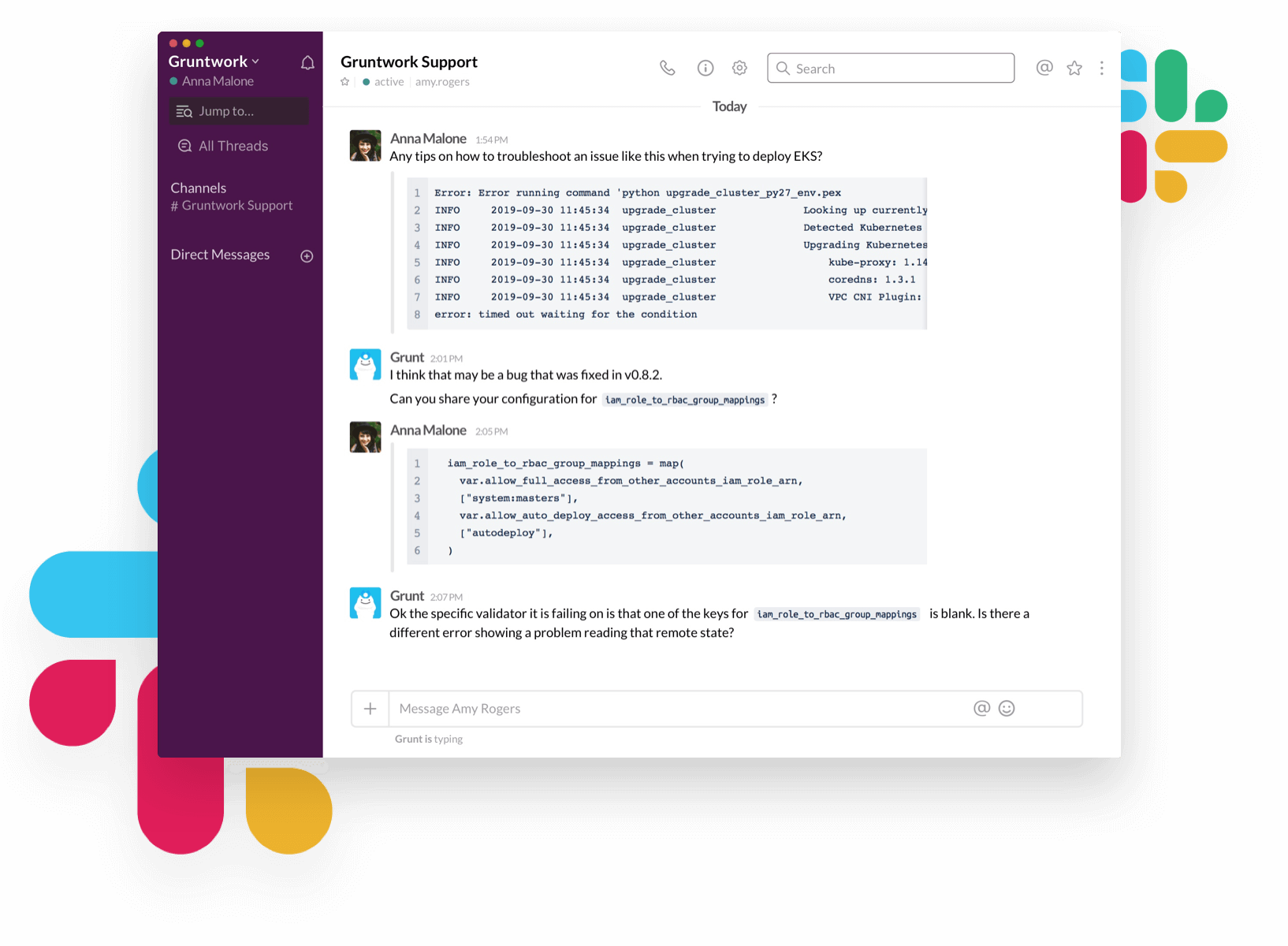 Get Commercial Support
Get help with questions, troubleshooting, bug fixes, system design, and code reviews from the Gruntwork team via Slack, email, and phone/video calls. SLAs on response times available.
Support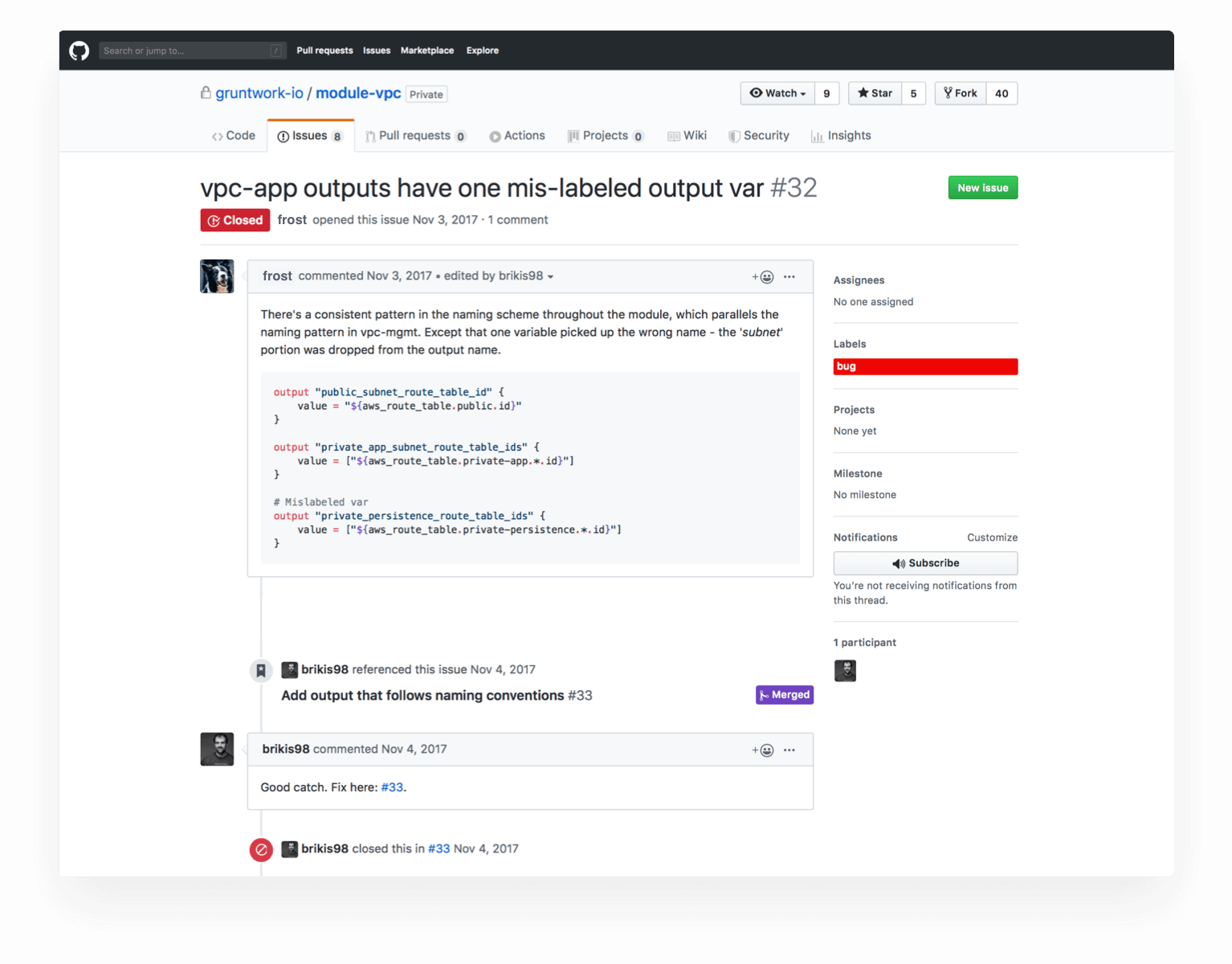 Prioritized Bug Fixes
If you find a bug in any of the code in the Infrastructure as Code Library, we'll start working on a bug fix within a guaranteed SLA.
Enterprise Support
Check Out the Use Cases We Support
View All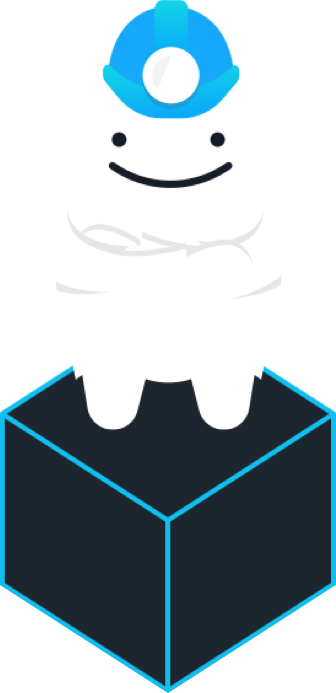 Ready to hand off the Gruntwork?